Kommit – Your hitch system for shared driving fun!
"Hey dad, can we do the trail again, it was so cool?" Kommit , I'll tow you up. "
It is the same or similar for many families who are on tour with their children on their bikes. At some point the kids will run out of strength and this is exactly where the pulling system comes in Kommit designed and developed in Bavaria for use. It's small, light and intuitive to use. Let yourself be inspired by this effective problem solver. That Kommit will playfully extend your bike tour by many more kilometers together.

This is howKommit works
EASY ATTACHMENT to the saddle
Simple plug & play installation under your bike saddle. Firm fit and easy fixation and loosening of the Kommit for maximum flexibility when biking together.
Very easy fixation on the BIKE
Easiest fixation via a loop on the stem of the handlebar. Attaching and removing the pull cord while driving is child's play.
Shared driving fun
With your Kommit Nothing stands in the way of your shared driving pleasure. Letting yourself go has never been easier.
Now place your Kommit order
Buy your Kommit hitch system here
Buy your Kommit hitch system designed and developed in Bavaria for the next excursion together on the bike. Whether with your kids or the whole family. Order here now.
Kommit – Dein Zugsystem für mehr Fahrspaß
incl. Tax
#bikefriday Special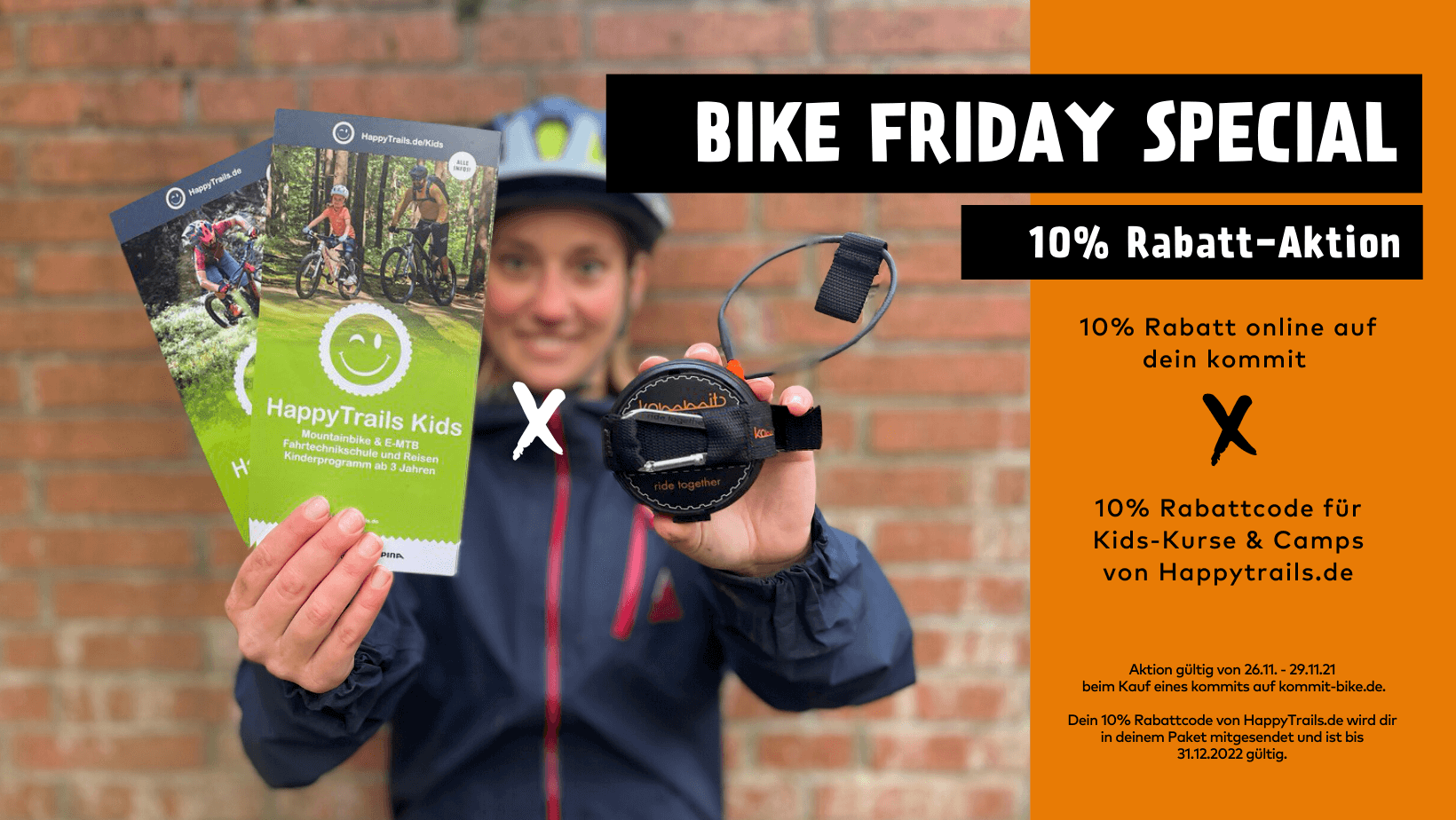 Thank god, it's bike Friday! Starting today for the entire weekend up to and including Cyber Monday, we have a mega 10 by 10 offer for you. You get 10% on our train system in the online shop. In addition, when you buy a comit, you get a 10% discount code on all mountain bike kid's courses, children's holiday camps and family camps from our partner happytrails.de . The 10% discount code from HappyTrails.de will be sent to you in your package and is valid until December 31, 2022.
Want to order a kommit outside Europe?
Please drop us a line, and we will give you feedback on your request.
This is what our customers say about her Kommit
No reviews to show
Video & pictures
Here we have a video and a few pictures for you to click through, so that you can get an even better insight into this Kommit It is ideal for families who want to be carefree on the bike with their kids.
Video
pictures
Press | Dealer inquiries
Feel free to contact us with retailer inquiries and for further press information and media content about theKommit .
That Kommit team
The story behind our KommitTeam. Founder and Inventor Robert Rieger For many years he toyed with the idea of a hitch and tow system to give his children more trail fun. It was tinkered with and tested for many years. With the help of his friend Frank Hofmann, who is also a product developer, we were able to do that Kommit can be shaped to market maturity in just 6 months. It's nice to have friends with whom you share the same passion professionally.
" For us it is a matter of the heart with which we want to inspire bikers' hearts! "
Press | Dealer inquiries
Feel free to contact us with retailer inquiries and for further press information and media content about theKommit .
A product of RideTime GmbH .
Contact
Phone +49 (0) 9142 38 32 1
Address: RideTime GmbH, Uhlbergstrasse 54, 91757 Treuchtlingen
E-mail:
FAQ
Wie lang ist die Zugschnur?
The pull cord of our committee has a total length of 2 meters.
Wie hoch ist das empfohlene Zuggewicht ?
The recommended pulling weight for the Kommit is a maximum of 90 kg. The total weight is calculated from the rider and the bike.
Wie hoch ist die empfohlene Höchstgeschwindigkeit?
The recommended maximum speed for cycling with the use of the Kommit is 12 km / h.
Sind alle Sättel und absenkbare Sattelstützen geeignet für so ein Gewicht? Kann durch die Zugkraft meine Teleskop-Sattelstütze beschädigt werden?
If used properly in accordance with our operating instructions, no damage is to be expected. Understandably, however, we can only guarantee our product, as its use is beyond our control. We did not test the system on saddles with lightweight struts, but high-quality telescopic supports were always used.
Kann ich auch mit dem E-Bike ziehen?
Yes, the Kommit is of course also suitable for supporting other cyclists with the e-bike.
Your question is still unanswered? Then don't hesitate to contact us! We look forward to your message.
TestCenter
Here you can easily find your on-siteKommit testing.
Our Kommit-Dealer list you can find here .
Deutschland | Trailparks
Heumöderntrails Trailpark
Germany | Treuchtlingen / Bavaria | Trail park

Uhlbergstrasse 54, 91757 Treuchtlingen

Tel. +49 (0) 9142 3832-1
Trailcenter Rabenberg
Germany | Breitenbrunn / Erzgebirge, Saxony | Trail park

Neue Rabenberger Str., 08359 Breitenbrunn / Erzgebirg

Tel. +49 (0) 037 756 1710
Bikepark samerberg
Germany | Samerberg / Bavaria | Bike park

Hochriesstrasse 80b, 83122 Samerberg

Tel. +49 (0) 8032 95 90 790
Germany | Driving technique schools
HappyTrails Kids
Deutschland | Treuchtlingen/HeumödernTrails, Aschau im Chiemgau, Bikepark Samerberg

Tel. +49 (0) 9142 38 32 3
SportExperience
Deutschland | Weinstadt/Baden-Württemberg

Tel. +49 (0) 171 2080688
Germany | Shops
abgefahren Bikes & Sports
Deutschland | Ellwangen/Baden-Württemberg

An der Mauer 10, 73479 Ellwangen

Tel. +49 (0) 07961 8940561
Biller Bikes
Deutschland | Deggendorf/Niederbayern

Pferdemarkt 18, 94469 Deggendorf

Tel. +49 (0) 991 30440
Bike Service Bingen
Deutschland | Rheinland-Pfalz

Berlinstr. 19, 55411 Bingen am Rhein

Tel. +49 (0) 160 921 727 29
Fahrbar Bikes
Deutschland | Oberbayern

Standorte: Bad Wörishofen | Landsberg am Lech | Kaufbeuren

Tel. +49 (0) 83 41 9 95 45 50
Fahrradkiste
Deutschland | Nürnberg/Bayern

Knauerstraße 9, 90443 Nürnberg

Tel. +49 (0) 911 2879064
Fahrradwelt Huber
Deutschland | Oberbayern

Eiselfinger Straße 5, 83512 Wasserburg am Inn

Tel. +49 (0) 8071 9197500
HEROBIKES
Deutschland | Roth/Bayern

Welserstraße 4 | 91154 Roth

Tel. +49 (0) 9171 98 94 98
Kai Gimmler Bikes
Deutschland | Saarland

Saarbrücker Str. 197, 66359 Bous

Tel. +49 (0) 6834 958970
Kinderleichtbike
Deutschland | Heilbronn/Baden-Württemberg

Armsündersteige 85, 74076 Heilbronn

Tel. +49 (0) 178 5227355
NEW ØRD3R
Deutschland | Berlin

Karl-Marx-Allee 133, 10243 Berlin

Tel. +49 (0) 30 959981143
RadGarage
Deutschland | Bopfingen/Baden-Württemberg

Ostalbstr. 93, 73441 Bopfingen

Tel. +49 (0) 7362 920138-0
velovita Rad. Sport.
Deutschland | Weißenburg/Bayern

Augsburger Str. 74 | 91781 Weißenburg in Bayern

Tel. +49 (0) 9141 9958780
Austria | Shops
Bikequadrat
Austria | Niederndorf

Erlerstrasse 20A, 6342 Niederndorf

Tel. +43 (0) 660 509 23 24
Switzerland | Shops
Gisler Sport Arosa
Switzerland | Arosa

7050 Arosa > Several branches in town

Tel. + 41 (0) 81 377 61 51
Poland | Shops
AktywnySmyk
Polska | Warszawa

Białobrzeska 5, 02-379 Warszawa

Tel. + 48 661 420 448