kommit® – Your bike towing system for shared riding fun!

"The Bike Towing System for everyone and every occasion – no matter if you are on tour with kids or adults!"

We've all been there: At some point, your children or your bike partner run out of energy on tour. But also a technical defect can bring your ride to an early halt. This is exactly where the kommit® Bike Towing System comes into play – designed, developed and assembled in Bavaria.
Get inspired by this high-quality, effective problem solver. Thanks to the strong tensile force of 120kg (also fully suitable for adults) the kommit® Bike Towing System allows you to easily extend your bike tour by several kilometers or to bring your bike buddy home safely.
Possible applications ofkommit®
Support kids on tour by towing them uphill
Riding uphill can be really challenging for kids due to their heavy bikes. This is where kommit® makes things easier for parents and their kids!
Tensile force of 120 KG:
Compensate for different fitness levels
We recommend to use an e-bike for towing. Otherwise you need enough power to tow your partner uphill on your standard bike.
Happy Kids, Happy Parents – Best Bike Day ever!
Spending a wonderful day on the bike with happy children or your partner without any pain or complaints is just perfect!
Support in case of defects on tour thanks to the tensile force of 120 KG
Flat battery, broken chain or defective shifting system: this is exactly where kommit® is the ideal problem solver and rescue kit.
Extend the tour length for family rides
kommit® makes family tours more relaxed as your children can be towed every now and then. This is great fun to both kids and parents!
kommit ® , your shuttle, up to the next trail
Sometimes there is no bike lift but the trail was just too good to not ride it again straight away. In this situation the kommit® mounted on your friend's bike is the ideal shuttle!
Control your way downhill: in case of fear or bike failures
Mount the kommit® under your friend's saddle as usual. Simply hook the loop onto your stem. And you are in full control on your way downhill.
Perfect for a walk or run with kids
Kids on balance bikes can make a walk or run very difficult when you want to go for longer distances. With kommit® you can simply tow your kids along when they get exhausted. Thus training their balance at the same time.
Order your kommit ® now: directly from the manufacturer
You can support us personally by ordering your kommit® bike towing system directly via our homepage. Be part of our vision for focus on maximum quality, short supply chains and local value creation through assembly in Bavaria – even at local sheltered workshops.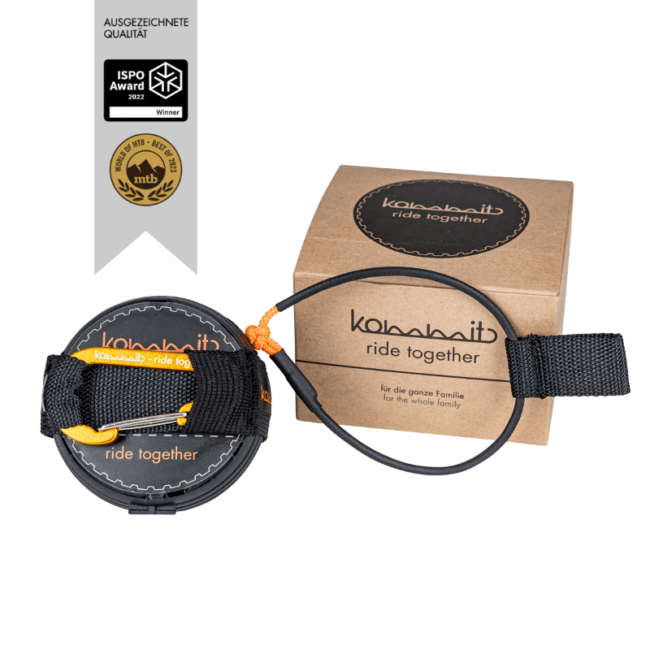 kommit® – Your bike towing system for more riding fun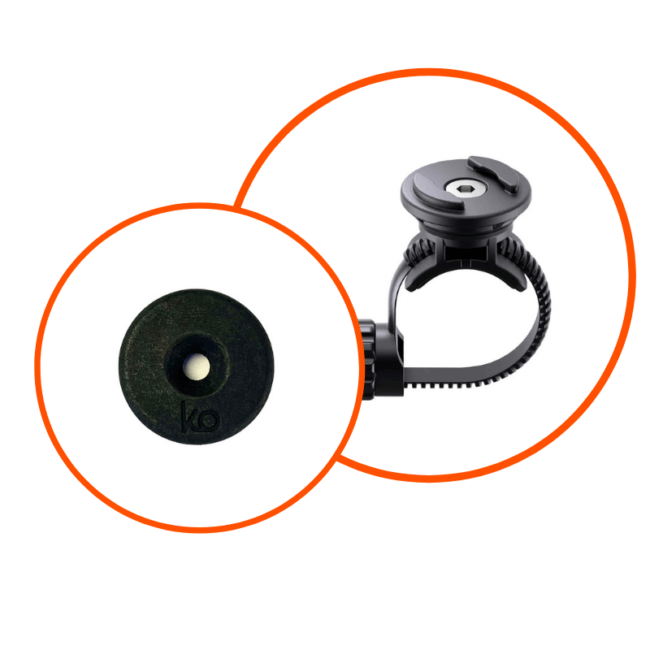 kommit® Mount Bundle
Attachment options ofkommit®
kommit® for flat roads and uphill climbs: Attachment to the saddle of the towing bike
Biker towing biker on flat road or uphill tour. Compensate for different fitness levels or tow your partner in case of defects.
Easily hook the loop onto your BIKE
Straightforward fixation via a loop on the stem of the handlebar. Attaching and removing the pull cord while driving is child's play.
Connection between two bikes with up to 120 kg tensile load
With yourkommit® nothing keeps you from enjoying a ride with kids or adults. It's never been easier to be towed uphill or guided downhill.
Easy ATTACHMENT under the saddle
Tool-free Plug & Play assembly in seconds under your saddle for maximum flexibility when biking together.
NEW | kommit® use on bikes without stem clamping screws by the kommit® Mount
Some stems have no side clamping screws to hook the loop onto the bike to be towed! For this purpose we have developed our kommit® Mount which is the perfect solution in combination with the SP Connect Micro Bike Mount. Available now.
Fasten the kommit® Mount to the handlebar without tools
kommit® Mount to SP handlebar adapter and then mount it to the handlebar or stem without tools. Assembly in less than 1 minute Strong fit!
Hanging the loop in the kommit® Mount
As usual, hook the loop on the bike to be pulled over the mount.
And you are ready to go uphill together
With the kommit® Mount, the riding experience remains identical for both bikers.
NEU | kommit® im Notfall bergab: Befestigung am Sattel des zu abschleppenden Rades
If the braking system fails when going downhill or if the child is scared of the steep slope, you can use the kommit® as well. Simply attach kommit® to the saddle of the bike to be towed and hook the loop onto the stem of your own bike. Please try to stay on safe and paved paths if possible.
Downhill in emergency: Hook the loop onto your own BIKE
Attach the loop to your own bike so you can guide your child or friend safely downhill by gently using the brakes.
Downhill in emergency: Effectively solve emergency situations
You don't hope for it but you never know. Whether the braking system fails when going downhill or the child is scared of the steep slope… kommit® is your tool for emergency situations.
Downhill in emergency: ATTACHMENT under the saddle of the bike to be towed
Proven tool-free assembly under the saddle of the defective bike or the scared kid's bike in seconds.
NEU | kommit® beim Spazieren oder Joggen: Befestigung am Vorbau vom Kinderrad
Use kommit® to tow your kids along on a walk or run. Extend your radius of action. At the same time kids train their balance in a playful way and parents keep fit!
Fixing the kommit® to the stem of the children's bike
Fast attachment of kommit® to the stem of the kid's bike.
Enjoy more time together in nature
Parents keep fit and kids don't have to pedal all the time. Yet, it helps kids train their balance while rolling.
Grab the loop and start walking/running
It's never been easier to extend the radius of a walk or jog with your kids on their balance bike.
What our customers say about their kommit®
Barbara B.
Verified owner
Wir wollten eine Hilfe, falls das ältere Kind nicht mehr kann und wir trotzdem noch ein Stück mit dem Rad zurücklegen müssen, ohne dafür einen Anhänger oder ähnliches zu brauchen. Zwei Urlaube später hat sich das System absolut bewährt. Klein und leicht zu transportieren und im Notfall die Rettung für den Heimweg. Schade, dass es offiziell nicht im Straßenverkehr genutzt werden darf.
2 months ago
Anonym
Verified owner
Klasse Gerät! Wir nutzten es im Urlaub in Holland am eBike um das kleinste Kind abzuschleppen. Mehr in der Ebene als bergauf. 10km und mehr am Stück waren kein Problem. Der sehr häufige und starke Gegenwind war damit kein Problem mehr. Wichtig, das Kind sollte sicher fahren können, muss es ja doch eigenständig Bremsen. Eine ständige Kommunikation untereinander hilft zudem, wenn Richtungsänderungen, Bremsen etc. bevorstehen. Wir zogen viele neidische Blicke an. Hinsichtlich der Verkehrserlaubnis des Systems im Straßenverkehr haben wir uns nur insofern Gedanken gemacht, als dass wir in Ortschaften und bei regem Fußgängertreiben das Seil nicht genutzt haben. Ausschließlich erwähnt, wir empfehlen das System, nicht aber unsere individuelle Nutzung damit. Das ist jedens eigene Verantwortung. Lieferung, Installation einwandfrei. Wir werden das Seil weiter nutzen, auch in Deutschland. Empfohlen haben wir es bereits mehrfach!
3 months ago
Michael Meyer
Verified owner
Super Teil, immer dabei und macht längere Touren auch mit viel bergauf für die Kids zum Kinderspiel
4 months ago